World's Largest Interactive Heart comes to Paris to educate children
THE WORLD'S LARGEST INTERACTIVE HEART (AMERIHEART) COMES TO PARIS, TEXAS TO EDUCATE CHILDREN AT NORTH LAMAR SCHOOL ABOUT HEART CARE.
THIS EVENT IS SPONSORED BY:
(PARIS CARDIOLOGY CENTER-KHALID SHAFIQ M.D.)
The public mind is educated quickly by events –slowly by arguments.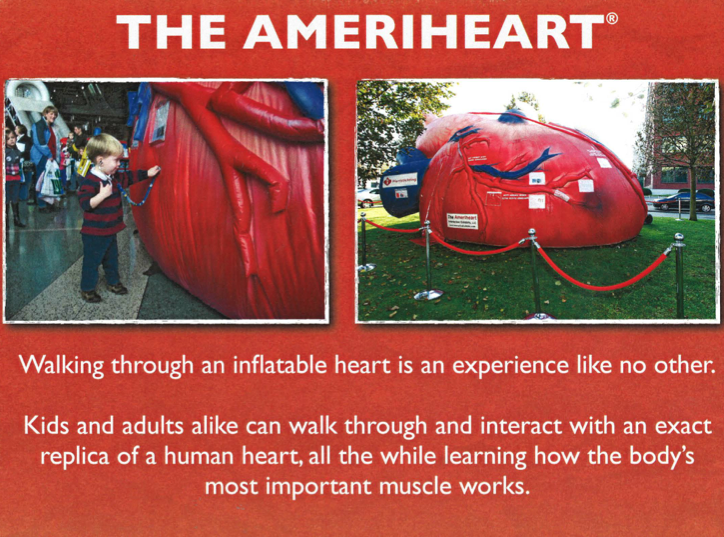 Have you ever wondered what your heart looks like? How it works? What better way to understand how your heart works and how to increase heart health awareness than to actually walk through the body's most important muscle?

BellinHeart, intoduced this idea for the first time in the form of Ameriheart, a 21×17 feet large walk through exhibit of human heart was presented on January 29th 2011 at the Lambeau Atrium at Green Bay in Wisconsin

The Ameriheart was rented as a trial to evaluate the community's response to this innovative heart exhibit. RN staff gave tours and answered questions to over 700 children and adults. Tours included normal heart anatomy and visual examples of heart attack, bypass graft, endocarditis, septal wall defect, and mitral valve prolapse.

Since then, Ameriheart has travelled all over the United States educating several communities on heart health awareness. In April 2013, Ameriheart was presented to a community in Pennsylvania and made the headline news. On May 31st 2013, Paris Cardiology Center –Khalid Shafiq M.D. is sponsoring this event and bringing it to North Lamar School District in Paris Texas to create healthy heart awareness.

At the Ameriheart fair, Sayek Shafiq from North Lamar Frank Stone Middle School and Layla Shafiq from North Lamar Everett Elementary School in collaboration with staff from Paris Cardiology Center –Khalid Shafiq M.D. will be presenting posters on heart disease awareness as well.

Sayek Shafiq will be presenting a poster on "Stent, as one of the greatest inventions of 20th Century" and Layla Shafiq will be presenting a poster on "The talent of saving lives by saving hearts". While the Staff from Paris Cardiology Center will be presenting posters on subjects like "Healthy heart diet habits " and "The Anatomy of the Heart".

Dr. Shafiq's team of nurses and staff along with nurses from Ameriheart will be presenting this exhibit to over 1200 students and teachers from Frank Stone Middle School and Everett Elementary School only. Children will be given an opportunity to ask questions on heart related issues and will be treated to over 1200 giveaways in the form of healthy heart pamphlets and heart souvenirs.

Dr. Khalid Shafiq, his family and his staff at Paris Cardiology Center believe that healthy heart habits should be introduced in children at an early age. A heart healthy balanced nutrition, followed by regular exercise, backed by a no smoking campaign and vigilance towards keeping cholesterol and blood pressure numbers in check are the crucial steps that need to be taken in preventing the onset of the most deadly disease in the United States as well as the world since early childhood.

Heart Disease is the number one killer of both men and women in the United States followed by Cancer and Stroke. It is about time children are educated to preempt this deadly disease from an early age.

On May 31st 2013, children will walk through the Ameriheart and learn about their heart's chambers, valves, arteries' and veins. They will learn about a medical condition described as "a hole in the heart". They will learn what heart infection and heart disease can do. They will view mitral valve defect. They will see how blood circulates. They will see what happens during a heart attack. They will know the symptoms of a heart attack and when to call 911. They will learn about coronary artery bypass and see what a stent looks like. They will check out the ribcage and listen to the heartbeat-both normal and A-fib.

We are ready to make a difference in the lives of our children. The world's largest interactive, anatomically correct inflatable heart exhibit will be open for tours from 9 AM to 3 PM for students at Frank Stone Middle School (Building B Gym). If your child goes to Frank Stone Middle School or to Everett Elementary School at North Lamar district, please talk to them about this event and encourage them to attend. They will enjoy, remember and benefit from this experience.
| | |
| --- | --- |
| | Ayesha Shafiq, Director of Paris Cardiology Center. Wife of Khalid Shafiq M.D. and mother of their 2 children. Director of Paris Cardiology Center for 11 years. Masters in International Relations. Runs management with the help of 22 employees. |