Paris Cardiology Hosted Talk on Advances in Cardiovascular Surgery
On August 26th 2011, Khalid Shafiq M.D. held a talk at his clinic Paris Cardiology Center focusing on the benefits of the new cutting edge technology involving Impella Device and it's benefits and outcomes in Cardiac Patients.

Dr. Shafiq is board certified in Internal Medicine, Cardiovascular Disease and Interventional Cardiology. He has expertise in Heart Catherization, Coronory Angioplasty, Pacemaker Placements, Peripheral Stents and Carotid Artery Stenting. At Paris Cardiology Center he performs 64-Slice CT studies on his patients. He is affiliated with Paris Regional Medical Center.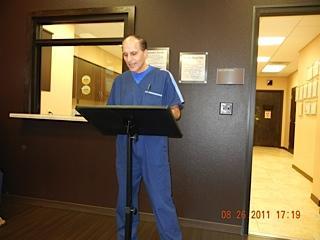 Another Dimension of this Cardiology talk was provided by Dr. Greg Matter who is affiliated with Baylor Heart Hospital in Dallas. Dr. Greg Matter who is considered one of the premier cardiothoracic surgeons in Dallas and Metropolis area presented his talk on Coronary Artery Bypass surgery. Dr. Matter is board certified in Cardiothoracic Vascular Surgery and has expertise in Peripheral Vascular Surgery, Cardiac Surgical Procedures, Heart Valve Diseases and Thoracic Surgery.

Dr. Matter's talk centered on the differences between treating Coronary Artery Disease with Bypass surgery instead of medical therapy or Coronary Artery Angioplasty and Stenting of the diseased heart vessels.

Dr. Matter reviewed the various studies over the past 10 years regarding the comparison between Coronary Artery Bypass surgery versus Angioplasty and Stenting of the Coronary Arteries, for improvement in the blood flow to the heart.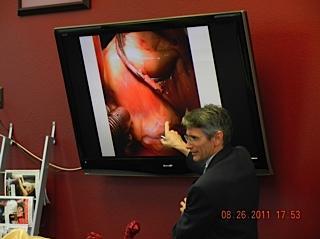 The general consensus was that in patients with overall poor heart function, surgical revascularization with Coronary Artery Bypass surgery resulted in a more long lasting and successful outcome. However, various studies funded by Stent device companies may have been somewhat biased in their conclusions, with further analysis again supporting the case for surgical revascularization and Coronary Artery Bypass surgery.

Dr.Khalid Shafiq presented options for Angioplasty and Coronary Artery Stent placement for high-risk patients who have already undergone Coronary Artery Bypass Surgery and were considered high-risk patients for Angioplasty and Stent placement.

These patients are also not candidates for repeat Bypass Surgery. These high-risk patients are the patients that are symptomatic with chest pain and angina even with maximum medical therapy.

Dr. Shafiq has already successfully performed the first four high-risk Cardiac Cath and Angioplasty and Stent procedures at the Paris Regional Medical Center using the Impella 2.5 L Cardiac Assist device, which is manufactured by the Abiomed Company. The use of Impella 2.5 L device made these high-risk Angioplasty and Stent procedures possible resulting in significant improvement in the quality of life of these patients.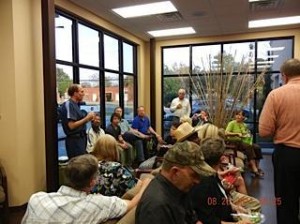 Two of patients who had received the Impella device during their procedure were also present at this meeting. These patients would not have the quality of life they now have were it not for Dr. Shafiq and this new technology.

The talk was attended by Mr. Bill Porter CEO of Paris Regional Medical Center, Administration of PRMC, Physicians of PRMC , Patients and staff members of Paris Cardiology Center.